Dangles is a set 3 Dangle Bars turning stickhandling training into a video game.
$135.00
Pre-sale Phase 2 - Sept Only!
*Pre-order now, shipped in November
Dangles:

What are the Benefits?

Dangles turns stickhandling into a game, ensuring players are pushed to the limit each rep, while having fun!

3 Dangle Bars + 3 Sensor Areas
Dangle Bars can not only track the puck going through the middle of the gate, but also on either side. This makes for a more realistic training experience AND allows for infinite setup possibilities.

Use Them Anywhere, Any Pattern
Dangles has 10+ preset game modes along with a robust custom game mode feature. You can setup Dangles in any configuration, on any (flat) surface, using ANY ball or puck - versatile!

Bolt Sports App - Take Your Skills ONLINE
The key game modes are all connected directly to our global leaderboards, sorted by age. Compete with athletes from around the world and see how you stack up. More info about the app click here.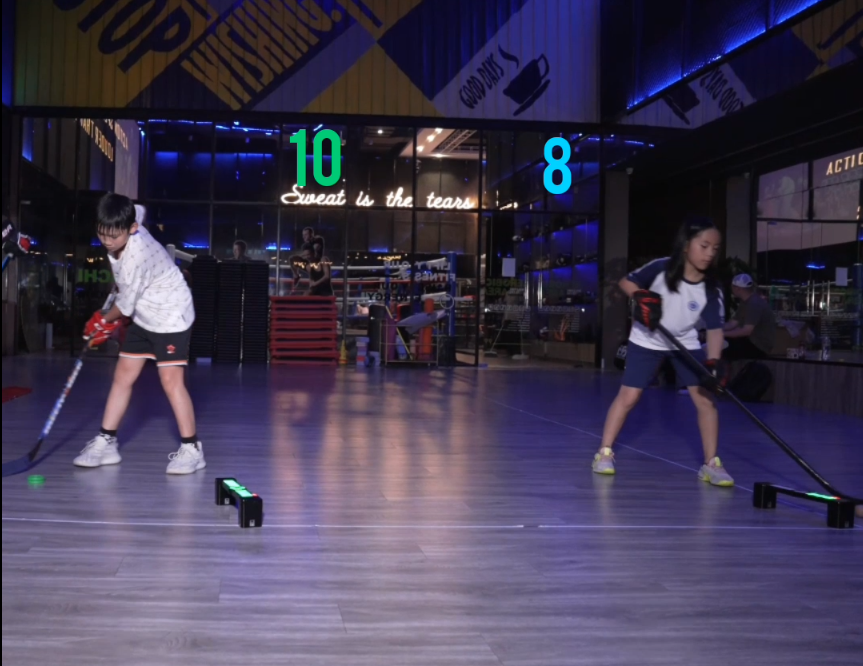 Take a look at Dangles multi-player!
Why You Need
Dangles
Hockey is becoming more and more a skill game and if you're not training your hands, you'll be left behind. Dangles totally re-imagines stickhandling training and pushes you to improve.
Faster Hands, Quick Decision Making
Some games take you through a preset pattern, challenging you to stickhandle as fast as you can; while others challenge you with randomized aspects forcing you to react quick and make decisions under pressure.
Track Progress and See Improvement
Create your player profile in the Bolt Sports App and watch your hands get better. Dangles tracks your each game, so over time as your scores increase, your hands get better along the way.

Compete with Friends or Self
With our two player game modes, compete with friends live in person. Using our online head to head play, compete with friends live, remotely. It's truly a real life stickhandling video game!
This
stickhandling video game

is the ideal gift for hockey players who want better hands.

🎁
Smart&nbsp

Design.

Built to be Used Anywhere.

Portable, lightweight, durable, suitable for any environment.

Water-Resistant
Use Dangles in any environment. Can withstand being used on ice, in light rain. Cannot use underwater.
Built to Withstand a Hit
While the goal of using Dangles is to avoid hitting the Dangle Bar, practice makes perfect and surely it will take a couple slashes. The PC/ABS material is durable enough to withstand hits.

Stick to Flat Surface
 The detachable suction cups allow Dangles to be stuck to flat surfaces such as a smooth floor or stickhandling board.

Environmentally Friendly
Batteries rechargeable, no waste in the box, minimalist packaging. We let the product do the talking, no fluff.
3

Sensing Areas

Infinite Possibilities
Detect the puck or ball through the middle or on either side of the Dangle Bar.